St Louis Post 22 February 2014
By David Hunn
"Bathers with a Turtle," oil on canvas by Henri Matisse, hangs at the St. Louis Art Museum, on Wednesday, Feb. 19, 2014. This is painting is in the exhibition catalog "'Degenerate Art': The Fate of the Avant-garde in Nazi Germany." It was purchased by Joseph Pulitzer Jr. and Louise Vauclain Pulitzer at the Galerie Fischer auction held in the Grand Hotel National in Lucerne, Switzerland, on June 30, 1939. Photo by Stephanie S. Cordle, scordle@post-dispatch.com

ST. LOUIS • In a first-floor gallery at the St. Louis Art Museum hangs a life-size portrait of three bathing women and a small red turtle. The painting, by Henri Matisse, changed the course of art, and is considered one of the most influential 20th-century paintings in the United States.
But it should not be here. It should be in a museum deep in German coal country.
And it might be, were it not for World War II, the Nazi theft of millions of the most important artworks in Europe, and a St. Louis newspaper tycoon.
In the summer of 1939, Joseph Pulitzer Jr. traveled to Switzerland for a spectacular auction assembled by the Third Reich to raise money for the war.
Pulitzer flew home owning a Matisse.
With Hollywood's help, moviegoers now know the harrowing tales of the Monuments Men, the group of roughly 350 men and women from 13 countries who recovered nearly 5 million pieces of art and artifacts stolen by the Nazis during World War II — including work by Claude Monet, Edgar Degas and Pablo Picasso.
But the story isn't one that ends in Europe. Museums across the United States own a small piece of that history even now, more than 70 years later. After the war, artwork ejected from Germany made its way to heirs, galleries and private collectors across the ocean.
The St. Louis Art Museum has at least nine such works.
"There was a whole system, a whole set of measures, (the Nazis) put in place to turn art into either art they liked, or into cash," said James van Dyke, an art history professor at the University of Missouri-Columbia, who specializes in German work. "And many American museums and private collectors benefited from this move."
The Nazis stole millions of paintings and artifacts. They seized private collections from Jewish families before sending the paintings to secret mines for safekeeping, and the Jews to concentration camps.
They pulled iconic works — Jan van Eyck's Ghent Altarpiece and Michelangelo's Madonna of Bruges, for example — from churches, castles and museums across France, Belgium, Italy and Austria.
And they removed millions of pieces from their own museums.
Their goal was twofold. Adolf Hitler, a failed art student himself, envisioned a gigantic museum devoted to Nazi ideals, full of famous Renaissance, Romantic and realist pieces plucked from his spoils.
The modern art he confiscated would be sold or destroyed.
The pieces recovered by the Monuments, Fine Arts and Archives section of the Western Allied military effort — the Monuments Men — were the lucky ones. The soldiers returned many to their home countries, if not their actual homes.
Two on display in St. Louis for example, Hans Mielich's 500-year-old "Portrait of a Gentleman" and "Portrait of a Lady," were confiscated from a Jewish couple in Vienna, Austria, recovered from the Altaussee salt mines, and returned to the family, according to museum files. Years later, an heir gave the paintings to the St. Louis Art Museum.
But the art confiscated from German museums and sold on the international market is a different matter, art experts say.
In 1937, the Nazis put on an exhibition with hopes of ridiculing the modernists they called "degenerate" and raising interest in the eventual sale of the paintings.
Some of those pieces were sent to four German art dealers, handpicked by the Reich to sell on the international market. An additional 125 pieces were sent to Galerie Fischer in Lucerne, Switzerland, for a special auction.
The St. Louis Art Museum has at least six pieces that Nazis confiscated from their own museums as degenerate.
Morton D. May, heir to the May Department Stores fortune, purchased two by Ernst Kirchner and one by Karl Schmidt-Rottluff from dealers in the 1950s and left them to the museum when he died.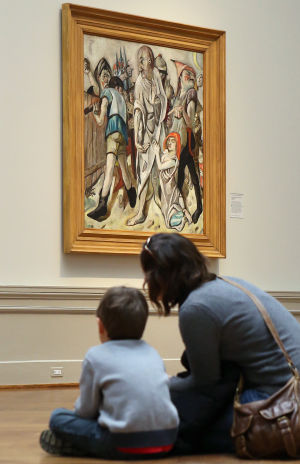 Spring Waugh and her son Henry Galey, 4, of St. Louis, look the painting "Christ and the Woman Taken in Adultery," an oil on canvas by Max Beckmann at the St. Louis Art Museum, on Wednesday, Feb. 19, 2014. Photo by Stephanie S. Cordle, scordle@post-dispatch.com
Two others — including Max Beckmann's "Christ and the Woman Taken in Adultery" — came to the museum from a New York art dealer, Curt Valentin, who specialized in Nazi confiscations.
But the most interesting, and valuable, traveled to St. Louis via Switzerland.
Germany's Museum Folkwang was founded in 1902 by a visionary art collector, Karl Ernst Osthaus, as the first contemporary art museum. He nearly single-handedly stuffed it with classical and modern art.
In 1937, the Nazis removed 1,400 pieces from the Folkwang, including seven Matisses. "Only a few dozen have found their way back," museum director Tobia Bezzola said Friday. Germans are increasingly interested in seeing artwork returned to their museums, he said.
But only works now owned by other Germans — not the Matisse that, in 1939, caught a young Joseph Pulitzer's eye.
Pulitzer, a recent Harvard grad, was honeymooning in Europe, well before his time running the St. Louis Post-Dispatch. He had already begun collecting art — Pulitzer famously hung an Amedeo Modigliani in his dorm room — and some of his art dealers had alerted him to the Nazi auction in Lucerne.
Pulitzer took his new wife to the auction. They bought the Matisse, "Bathers with a Turtle," for $2,400, less than one-ten-thousandth what it is now worth.
Pulitzer loved the piece. But he seemed to know the impact of his actions. Many thought any sale was too much of an aid to the Nazi effort.
To Pulitzer, it was an attempt to save the art from a certain fate.
He gave it to the St. Louis Art Museum in 1964.
"It's one of the great Matisses," said Simon Kelly, the St. Louis Art Museum's curator of modern art. "It's kind of our Mona Lisa."


http://www.stltoday.com/news/local/metro/how-a-french-masterpiece-stolen-from-a-german-museum-came/article_b0dee910-808f-5597-a8b3-5c8734742582.html