Huffington Post 1 December 2013
By Tom Christie
While the art world was fully engaged in the discovery of 1400 lost entartete Kunst paintings in the Munich apartment of Cornelius Gurlitt, a story still unfolding, another, far more modest yet potent victory was celebrated in Berlin. With the opening of the Berlinische Galerie's fine new exhibition, "Vienna/Berlin: The Art of Two Cities From Schiele to Grosz," another rediscovered painting made its return to public view after almost 90 years in the dark: Lotte Laserstein's Im Gasthaus/In the Restaurant (1927).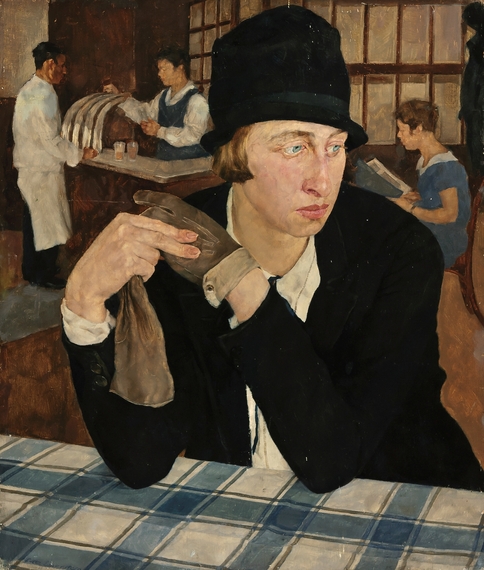 Laserstein was one of the first women to study art at the Berlin Academy and after Im Gasthaus appeared in the academy's annual exhibition in 1928 it was purchased by the City of Berlin, a considerable honor for the young artist. The painting shows a "neue Frau" alone in a bar, her hair bobbed in the new, more masculine style, her deflected expression pensive, intense. There is, too, something about her just-ungloved hand, with those two, Schiele-esque fingers pressing down on the seams of her other leather glove. Another single woman reads a book behind her, and if you bring this woman to the foreground, into the neue Frau's line of sight, well, who knows. In any case, if Laserstein's painting skills were getting noticed in Berlin's art world, her subject matter was getting her noticed elsewhere, as was her ethnicity.
Two years later, Laserstein finished her masterwork, Abend Über Potsdam/Evening Over Potsdam (1930), which shows a group of friends dining on a terrace overlooking the sprawling city under roiling clouds, clearly a stand-in for Germany at large. Again they look away pensively; what should be a scene of pleasure and joy is instead one of ennui and melancholy. Most or all of them, based on real friends - the woman at left, Traute Rose, was a life-long friend and Laserstein's favorite model -- were Jewish and they had plenty of reason to be troubled. Three years after the painting was finished, in 1933, Laserstein was officially classified as "three-quarters Jewish"; her life as a German artist, just begun, also appeared to be finished.

It's unclear whether Laserstein knew that Im Gasthaus had been labeled degenerate -- the painting still has its own entartete Kunst number (EK14607) written on the back, despite someone's attempt to erase it -- but she knew in any case that it was time to get out if and when she could. In 1937, the same year the Nazis held the infamous "Entartete Kunst" exhibition in Munich, Laserstein was given a show in Stockholm. She traveled to Sweden for the opening, stayed and would live out her life there, dying in Kalmar in 1993.
In 1987, the London art dealers Thomas Agnew & Sons, along with Belgrave Gallery, put together a show of Laserstein paintings, all of which sold, according to the Berlinische Galerie's Dr. Ralf Burmeister, co-curator of "Vienna/Berlin." One of these works was Abend Über Potsdam, which Laserstein had held onto for nearly 60 years. The painting went into a private collection until last year, when it was purchased at Sotheby's for a reported 350,000 pounds by the Neue National Galerie in Berlin. Meanwhile, Im Gasthaus was on the last leg of its long journey.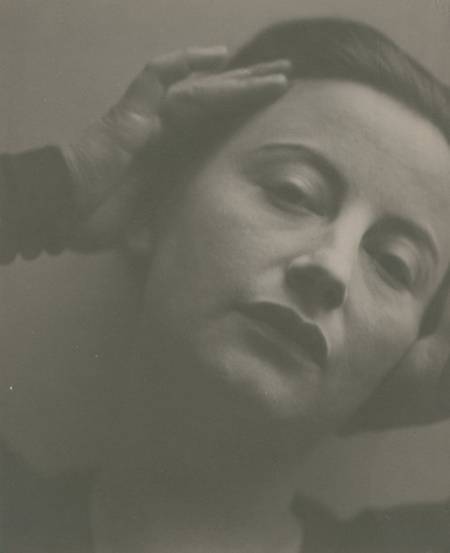 Among Laserstein's papers, which are owned by the Berlinische Galerie, is a photo of Im Gasthaus, on the back of which she wrote "vermütlich zerstört" -- presumed destroyed. That was a reasonable assumption, but as the strange tale of Cornelius Gurlitt and his 1400 "lost" paintings shows, there were plenty of reasons to hold on to works of art and keep them under wraps. In fact Im Gasthaus was in someone's hands all along; it would pass to at least another and possibly a few different owners before it showed up in an auction in Munich last June. The auction house, Ruef, obviously didn't know what it had and estimated its sale value at 900 Euros. Im Gasthaus sold to a private bidder, who outlasted a museum with a winning bid of €110,000. Burmeister's not saying if the museum was the Berlinische Galerie, nor is he naming the new owner, who has lent the painting for the exhibition. He did suggest that he wouldn't be surprised if the painting comes up for sale again in the near future.
Lotte Laserstein, seen above in a 1934 photo taken by her friend Traute Rose, emerging once again.

"Vienna/Berlin: The Art of Two Cities," co-produced by the Österreichische Galerie Belvedere in Vienna, continues at the Berlinische Galerie until January 27, 2014. Alte Jakobstraße 124-128, 10969 Berlin.


http://www.huffingtonpost.com/tom-christie/lotte-laserstein-berlin_b_4351939.html