ArtsJournal 9 May 2011
By Judith Dobrzynski
Last Thursday, the National Archives announced the launch of a new website, the International Research Portal for records related to Nazi-era cultural property. By joining the state archives of several countries in one place, and thus making millions of records related to Nazi-era cultural property available online for the first time, it's a step forward in the continuing saga of looted art.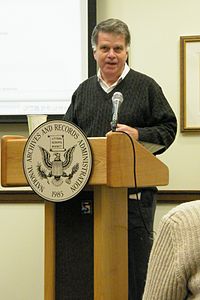 Aside from the National Archives, participating institutions include the state archives in Belgium, Ukraine, Germany, the United Kingdom, France, and others. As archivist of the U.S. David Ferriero (pictured, left) said in a press release, "researchers from all over the world will now be able to use a single point of entry to gain digital access to these widely dispersed archival materials."
That's the good news; the drawback is that users can't cross-search. I sampled the site, and it seems that users must go to each of the institutions and search. Another drawback is that the records are not complete; Belgium, for example, specifially states what is missing now, but may be available at a later date. And, Austria and the Netherlands do not seem to be participating -- a big loss.
Still, this is some progress.
Over this past weekend, the National Archives also hosted a research seminar on World War II provenance; other sponsors included the Association of Art Museum Directors, the American Association of Museums and the Smithsonian. It was sold out, and last Friday was not accepting additional applicants.
But you can see some of what was discussed from the program, which is posted here. I was pleased to see that Lynn Nicholas, the independent historian who started this work in earnest with the publication of The Rape of Europa in 1994, was an introductory speaker -- and she was given the honor of making concluding remarks.
I did not see any coverage in the America media, but The Guardian provides some British perspective on the portal here.


http://www.artsjournal.com/realcleararts/2011/05/intl-nazi-era-portal.html